Features of NS03
The chiller is suitable with the utilization with probers etc.
It is the chiller mainly suitable with onboard probers and memory enabled ones whose temperature range is from -65℃ to 30℃. The chiller is loaded with the cascade refrigerator unit, and also possible even at temperature as low as -80℃.
Internet Chiller (IOT Chiller)
You can access the chiller via the Internet from anywhere. You can work remotely as if you visited the site.

1
Since it is possible to diagnose the operation state of the chiller by confirming the log data, you can do fault diagnosis.
2
Thanks to the parameter control type, it is possible to recover the operation state of the chiller by readjusting the parameter remotely.
3
With a regular monitoring service contract of our chiller with us, we will access your chiller regularly and   report its operation state. This will enable you to prevent defects to occur in the bud as much as possible.
Energy Saving Chiller
1
The coolant circulation rate management by the DC inverter compressor and the evaporation temperature management by the electronic expansion valve  enable optimization of the cooling ability of each temperature range at normal operation time (temperature control pattern).
2
At quenching time, it is possible to increase the operational frequency of the DC inverter compressor and quench the (cooling pattern) chuck.
NS03 specification
| | |
| --- | --- |
| Channels | 1CH |
| Temperature range | -65℃~30℃(-80℃ available) |
| Temperature precision | ±0.5℃ |
| Compressor | DC inverter compressure |
| Ref system | Cascade system(2.2KW/2.2KW) |
| Condencer | air cooling |
| Cooling capacity | over 500w at every tenperature range |
| Heater | 1KW |
| Pump capacity | 3L/min at 0.25Kg/cm2 at -40℃ |
| Coolant | HFE-7200、HT110 |
| Dry air | 50Nl/min at 0.5MPa at -40℃(Dew point) |
| Coolant connections | Rc3/8 |
| Dry air connections | φ6 |
| Refrigerant | R23/R410a |
| Reserve tank capacity(80%) | (80%) 7L |
| Power supply | 3phase、200V±10%、50/60Hz、20A |
| Interface | Ethernet、RS232C |
| Demensions | 495mmW×780mmD×1545mmH |
* 仕様は予告なく変更する場合があります。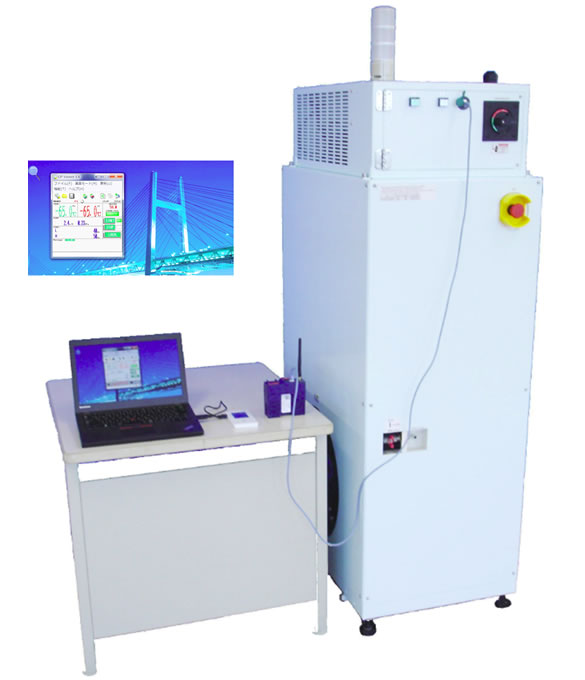 NAKAYA CO., LTD.
82 Zennouji Sakado-shi Saitama-ken Japan
http://www.nakaya-s.co.jp
Related company (In charge of sale and maintenance)
TAIWAN :BLIKSEN EW-TECH
CHINA  :PHSTC
KOREA  :TEAMs