Features of NS01-HB
The areal parameter control type adopted in NS01-HB is patented (Patent No. 5762493).
NS01-HB handles temperature range from -20℃ to 80℃ by using the 2 heat exchangers: one is for refrigerators, and the other is for cooling water.
Internet Chiller (IOT Chiller)
You can access the chiller via the Internet from anywhere. You can work remotely as if you visited the site.

1
Since it is possible to diagnose the operation state of the chiller by confirming the log data, you can do fault diagnosis.
2
Thanks to the parameter control type, it is possible to recover the operation state of the chiller by readjusting the parameter remotely.
3
With a regular monitoring service contract of our chiller with us, we will access your chiller regularly and   report its operation state. This will enable you to prevent defects to occur in the bud as much as possible.
Energy Saving Chiller
1
Our chiller uses 2 heat exchangers and automatically changes the heat exchange by refrigerators and by cooling water according to preset temperatures.   In case of setting the preset temperature with the heat exchange by using cooling water, it is possible to save more energy by stopping the freezer operation.
2
The coolant circulation rate management by the DC inverter compressor and the evaporation temperature management by the electronic expansion valve enable to secure the cooling ability adjusted with heat load. Additionally, the chiller can implement the maximum energy conservation by using hot gas.
3
The operation by the cooling ability adjusted with the heat load prevents troubles of the refrigeration cycle due to the mismatch between the cooling ability and the heat load. For example, it is effective to prevent troubles such as frosting on the compressor.
NS01-HB specification
Channels
1channel
Temperature range
-20℃~80℃
Temperature precision
±0.5℃
Compressor
DC inverter compressure
Condencer
water cooling
Cooling capacity
-10℃ at 2000W
Heater
1KW
Pump capacity
15L/min at 0.6Kg/cm2 at 25℃
Coolant connections
FC3283、HT110,etc
Rc3/4
Rc1/2
Cooling water flow rate
15L/min at 0.5Kg/cm2 at 25℃
Refrigerant
R410a
Reserve tank capacity(80%)
7L
Power supply
3phase、200V±10%、50/60Hz、20A
Interface
Ethernet、RS232C
Demensions
495mmW×730mmD×1245mmH
* Specifications are subject to change without prior notice.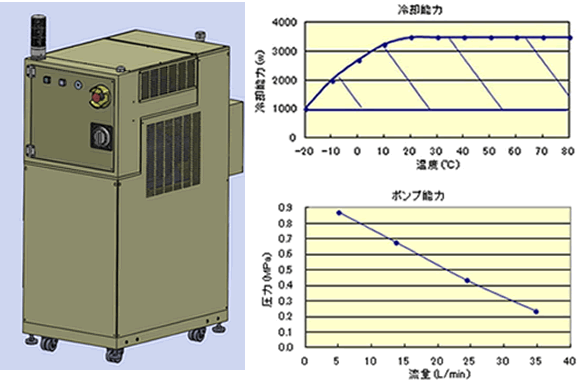 NAKAYA CO., LTD.
82 Zennouji Sakado-shi Saitama-ken Japan
http://www.nakaya-s.co.jp
Related company (In charge of sale and maintenance)
TAIWAN :BLIKSEN EW-TECH
CHINA  :PHSTC
KOREA  :TEAMs